ASSE Structure starts from the:
Society - an international organization
~ and includes two sections, our Guam Section and our Student Section at the OESM program at HCC ~
ASSE National Strategic Plan, Vision, Mission, Values & Goals
Founded in 1911, ASSE is the oldest and largest professional safety organization. Its more than 30,000 members manage, supervise and consult on safety, health, and environmental issues in industry, insurance, government and education. ASSE is guided by a 16-member Board of Directors, which consists of 8 regional vice presidents; three council vice presidents; Society president, president-elect, senior vice president, vice president of finance and executive director. ASSE has 15 practice specialties, 4 special interest groups, 150 chapters, 56 sections and 64 student sections. Kathy Seabrook, CSP, is the President of the ASSE Societal organization.
There are four branches of governance to the society and regional members are assigned to each of the four branches to improve communications within the society. The four branches are as follows:
COPS – Council on Practices and Standards
COMRA – Council on Member and Regional Affairs
COPA – Council on Public Affairs
COPD – Council on Professional Development
ASSE Councils and Committee webpage - who is involved in what at ASSE
2013 Restructure - ASSE embarks on a new governance model




Regional Operating Committee - 1 (ROC - 1) is one of 8 regions in the country.
From Alaska to Hawaii, Our Chapter belongs to ROC - 1.
Our R.V.P. (Regional Vice President, Erike Young, CSP, ARM ) is on the National Board of Directors.
Hawaii is one of 20 chapters in the ROC - 1. The ROC - 1 spans from the Arctic to the Tropics
Howard Hendricks is our representative on the ROC - 1
Want to learn more about the organization of our ROC - 1 > click here <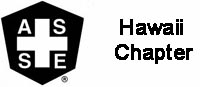 ASSE HAWAII CHAPTER
PO BOX 1354
HONOLULU, HAWAII 96807-1354
President - Bill Troegner, CSP
Phone: 808-391-3980
Email: wtroegner@gmail.com
---
Stuff & Things
~~~~~~~~~~~~~~~~~~~~~~~~~~~~~~~~~~~~~~~
Write an email to the webmaster <click here
- Got safety news? Let us know and we'll post it.
- Got safety ideas? Let us know we'll post it.
- Got safety training? Let us know we'll post it.
Working in partnership with industry and government for a safer tomorrow!
~~~~~~~~~~~~~~~~~~~~~~~~~~~~~~~~~~~~~~~
Learn, Know and Understand About Hawaiian Heritage
After all, we live here and are dedicated to:
1) the preservation of life; 2) improving the quality of life and;
3) have a deep respect for the

ắ

ina as the early Hawaiian's did.
Brought to you by - Hawai'i Digital Library - Copyright © 2004 by Hale Kuamo'o
College of Hawaiian Language and the Native Hawaiian Library, Alu Like, Inc.
~~~~~~~~~~~~~~~~~~~~~~~~~~~~~~~~~~~~~~~
Notes and Disclaimer: Some of the information provided on
this website was obtained from various sources on the internet
and is not owned by the chapter. If any information is yours
and you would like it removed, please notify the webmaster at
jnewberr@members.asse.org and we will promptly remove it.
Further, as a safety professional, if you find inaccurate info.
here that needs correction or improvement, please let us know
so that can take corrective measures in providing good quality
information to our members. Yours in safety - da asse-hi team.
~~~~~~~~~~~~~~~~~~~~~~~~~~~~~~~~~~~~~~~
Web Page Counter
Web Page last updated 05/13/14
~~~~~~~~~~~~~~~~~~~~~~~~~~~~~~~~~~~~~~~

A Whale of a story